*****ATTENTION THIS IS NOT THE ORIGINAL BLOG POST AND YOU WILL NOT BE ENTERED TO WIN THE GIFT CARD OR ANY OTHER PRIZES BY LEAVING A COMMENT ON THIS BLOG POST. IF YOU WANT TO PARTICIPATE IN THE GIVEAWAYS, YOU WILL NEED TO CLICK HERE TO GO TO THE ORIGINAL POST.********************
Y'ALL!! Guess what week it is?? SUPERBOWL WEEK! Okay...so I really don't care about the game. I'm sorry. Nor do I care about the commercials. IT'S THE FOOD THAT I LOVE!
I can't help but think that it stems from the fact that I have raised four boys that watched and played sports all their lives.
Truthfully, I didn't care what sport they played....I was in the stands rooting for them! Still rooting for them in their college sports. Yep...I'm that mom. In fact, I've been told on more than several occasions that I remind them of the mom in the movie the BLINDSIDE. Yes...I'm a mama bear. Which brings me back to the food!
Boys eat a lot. Four boys eat a buffet. Every year my boys looked forward to grazing the kitchen island that was filled with food made just for that day. It's not the typical food day in our house. It's the fatty foods, special drinks, and sweet treats that they look forward to.
They still come home from college just for Superbowl Sunday. I thought I'd share a few of our southern favorites which mostly include bacon. Who doesn't love bacon??? Be sure to scroll down for a fun recipe with bacon!!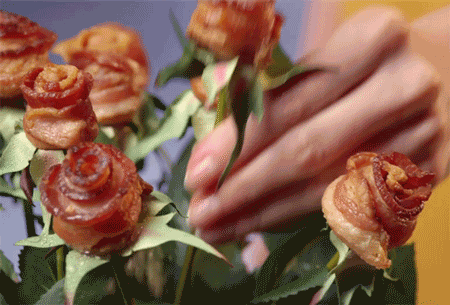 ​​SMXLL
The past couple months in the Kappes household has been a little crazy!!! It's no secret that Eddy and I have become empty nesters last August. At first I had a really hard time with it. . .for about a hot minute. THEN...Eddy and I have gotten really used to it and kinda diggin' it.
Then came Christmas break...
Over Christmas break Brady told us that he wasn't going back to college because it just wasn't for him. This didn't surprise us too much. He's never really enjoyed school and when he told us he was going to college, that surprised us. He does have a plan. He's back home and he's worked at a major pharmacy chain for a couple of years. He loves it there and has enrolled in their managers program. He's already enrolled in their 401K and other things they offer. We are very proud of him and his recognition that he knows what he wants in life.
Then there's Jack....He's in and out of the house since NKU basketball still has practice and games. He gets to stay on campus because of basketball, but we live so close he came in and out. One night around 2 a.m. my phone rings. You can imagine the heart attack I had when the phone rings at that hour.
Jack called frantic! A pipe had busted and his dorm apartment was flooded.
(Actual 2 a.m. footage below. Yes. Tv's, laptops, xbox and many more items damaged.)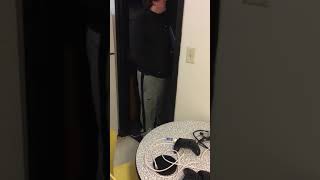 ​​
And at 3 a.m the director of the University told us that it was going to take THREE WEEKS to get fixed and redone....THREE WEEKS....
​​
THREE WEEKS!!! Did you read that? THREE WEEKS!! Jack is very social and goes out every night he can. Eddy and I would go to bed and every night for THREE WEEKS (minus the nights Jack was out of town for basketball), Jack would get in around 2 or 3 a.m. and he'd come in, kiss me and tell me he was home. THREE WEEKS!!!
Okay...I'm not complaining, much. And I'm thankful he would tell me he was home, but for the past six months in my head ~ I pictured sweet Jack in the library or in his dorm doing his homework. NOT RUNNING AROUND UNTIL 3 a.m!! THREE WEEKS!!!!!
In this THREE WEEKS, Brady started working the midnight-8 a.m. shift to reset the stores. This is just a temporary four week gig to get the pharmacy ready for the spring. He was going and Jack was coming and dogs were barking and lights were being turned on and off....don't get me started on the kitchen mess I woke up to every morning for THREE WEEKS.
I'm happy to report that he's safely moved back in the dorm as of this week. He's back to going to the library and getting in the bed at a reasonable hour. . . in my head.
MXLLS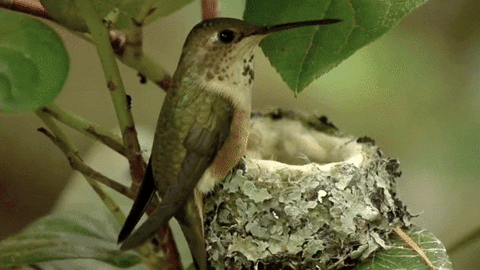 ​​
So now we've got one back in the nest. Life is getting back to the new normal.
​​
Be sure to click here to check out sales from my friends and me!
SPIES AND SPELLS is a paranormal mystery that's like Bewitched vs Scarecrow and Mrs. King! I hope you give it a try for only .99 this week only.
​​SMLXL
Click on the box to take you to a bunch more cozy mysteries for only .99 this week!
​​
​​
Hello!! Did I mention bacon yet??
This is a really good, artery clogging appetizer that's not only easy but delish. Potato wrapped bacon! It's super simple to make and I've got the recipe for you by clicking RIGHT HERE,
​​
​​
​​
Six Feet Under, Kenni Lowry Mystery book 4 is ready to preorder and releases in March!
Cold Blooded Brew, A Killer Coffee Mystery Book 4 is ready to preorder and releases in April!
Cake and Punishment, A Southern Baker Mystery book 1, is the first book in my new cozy series with the pen name Maymee Bell. It releases in May and also ready to preorder!
Just click on the book cover to preorder.
​​
To enter to win the $10 Amazon Gift Card, leave a comment and tell me if you watch the super bowl for the game or the commercials or you're like me....
I'll announce the winner on Thursday.